Buy Wholesale Centerpieces, Lanterns & Candle Holders for Weddings & Events
We sell both Retail and Wholesale to the public
We carry a huge inventory of many types of products at Shopatusm.com, both retail and wholesale. We cater to the Public, Restaurants, Hotels, Spas and Resorts, Churches, Charities and Fund Raisers, Party and Event Planners, Wedding Planners and other events and such.
All single quantity products on our site are at retail price and all Wedding Centerpieces, Candle Holders, Lanterns and Candelabras are listed in multiple lots at discount and wholesale prices. The more you buy the more you save. We are in the middle of changing our lots from quantities of 10,20,30,40,50 to 12,24,36,48,60 because this way we can offer a better price on both product and shipping.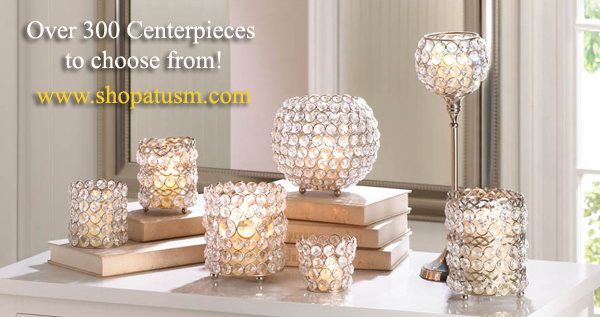 Please note.. we have a huge selection of over 300 different types of Wedding Centerpieces, Lanterns, Candle Holders and Candelabras. We do have some hot sellers that do sell out fast and we try to get them back in stock as soon as we can. We are always increasing our product list so please keep checking for new inventory.

Items that are not available at wholesale prices are:
1. Items without a SKU number
How to order wholesale..
1. Get the SKU # that is listed for the items you want.
2. Email us at cs@shopatusm.com with the SKU # along with your name and address for a quote (There will be a minimum for each item for a wholesale quote) Most items will be a minimum of 12 per item and a smaller minimum on larger items.
3. We will contact you and give you a quote on the item/items along with shipping.
4. If you would like to make a purchase after you receive your quote, then contact us and let us know so we can send you an invoice for payment.
5. If you are a FL resident and are tax exempt.. please email us a copy of your tax id. If not then you will be charged sales tax for FL.

6. Invoice will be sent for wholesale orders to be paid.

7. Once order is shipped, we will contact you by email with a tracking number for your order.
Please note this is for all items other than centerpieces, candle holders, lanterns, and candelabras, as they are already priced in wholesale lots.

All sales are final!